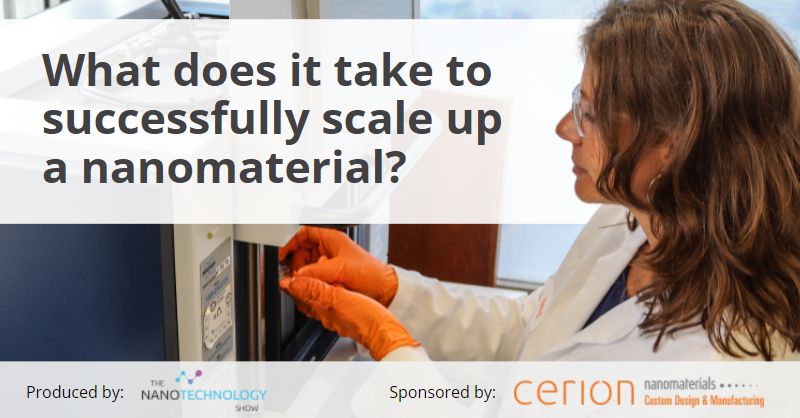 Abstract
Industry-wide, the results of endeavors to scale-up nanomaterials have been mixed. Few companies have mastered the art of scale-up when it comes to taking a novel nanomaterial that can be produced at scale - and that is broadly accepted by manufacturers, end users, governments and the wider public as a safe, economical and useful new nanomaterial. Why? This report seeks to outline first the technical challenges in nanomaterials scale-up, followed by the commercial barriers to growth, before outlining some key considerations that will enable both users and manufacturers of nanomaterials to maximize this exciting technology faster, more economically and with optimal performance results.
What You'll Learn
What does it take to successfully scale-up a nanomaterial?
Overcoming the technical challenges in nanotechnology
Hurdling the commercial and market-led barriers
Paving the way for future scale-up success
Conclusion and references
Contributors Include:
Landon Mertz, Cerion Nanomaterials CEO

Doug Singer, Cerion Nanomaterials EVP of Manufacturing

Mano Manoharan, GE Aviation Chief Technologist - Materials Industrialization

Nanotechnology Industries Association Director General

Leroy Magwood, XG Sciences CTO

Terrance Barkan, The Graphene Council Executive Director
Learn more from industry experts about how to overcome the technical challenges of nanomaterial scale-up, the commercial barriers to growth, and the considerations that enable both users & manufacturers of nanomaterials to maximize technology faster, more economically and with optimal performance results.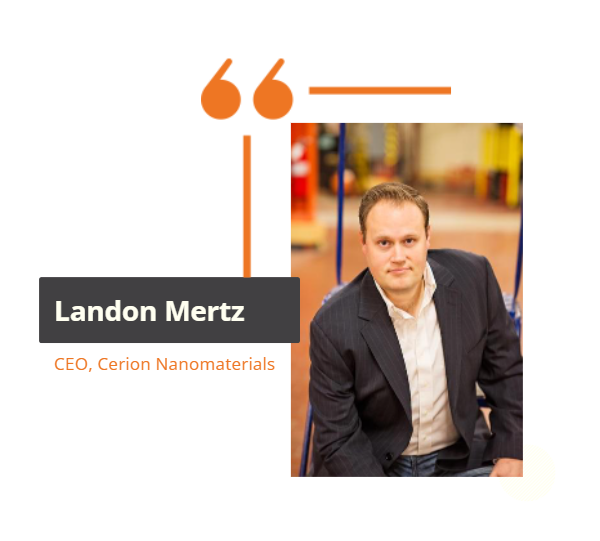 "Some processes work very well at the lab scale stage, but are either impractical, cost prohibitive or impossible to achieve at larger scales. Commercializing requires a whole of company approach that needs to start from the beginning of a program and has to encompass scientific, engineering and business functions to be successful. On-going planning, evaluation and clear-eyed risk prevention measures can avoid years of frustrated efforts and the loss of a significant investment. But you need experienced people who do this regularly to avoid the common pitfalls, and most companies working with nanomaterials don't have this in-house."
Custom Nanomaterials for Next Generation Products
Cerion is a global leader in the design, scale-up and manufacturing of custom inorganic nanoparticles. We enable industrial, life sciences and defense companies to cost-effectively realize the full potential of nanomaterials to add performance, differentiation and value to their products.
As a nanomaterials service provider, we don't develop end-use applications, only the nanomaterials that companies require to make them better.